At Rock Steel Structures Inc, we have been specializing in high-quality steel buildings and pole barns in Wenatchee, WA since 1983. As a licensed general contractor, we provide a range of services including new commercial construction, maintenance, and service work. And with our extensive experience and expertise in erecting metal buildings, we've successfully completed projects for a wide variety of clients and industries throughout central and eastern Washington.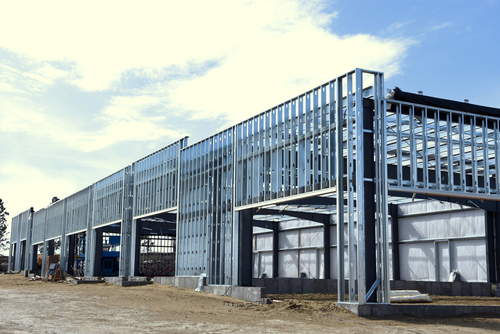 Steel Buildings
Our steel buildings are designed to provide you with a durable, versatile, and cost-effective solution for your commercial construction needs. So whether you require a small storage facility or a large industrial complex, we have the expertise to design and construct a steel building that meets your specific requirements. Our steel buildings are also engineered to withstand the harshest weather conditions and provide unparalleled structural integrity, ensuring the safety and security of your assets.
Metal Pole Buildings
If you're in need of a pole barn, our metal pole buildings are the perfect solution. Versatile and easy to construct, pole barns offer a practical and affordable option for agricultural, residential, and commercial purposes. Our skilled team can customize your pole barn to accommodate your unique needs, whether it's for storage, livestock, equipment, or even a workshop. And with our meticulous attention to detail, we ensure that your metal pole building is not only functional but also aesthetically pleasing.
New Commercial Construction
As a licensed general contractor, we have the expertise to handle all aspects of new commercial construction projects. From the initial design and planning stages to the final construction and finishing touches, we work closely with you to ensure that your vision becomes a reality. Our team is also committed to delivering projects on time and within budget while maintaining the highest standards of quality and craftsmanship.
Maintenance and Service Work
In addition to new construction, we also offer maintenance and service work for steel buildings and pole barns, as well. Our team of skilled professionals will ensure that your building remains in optimal condition and functions efficiently throughout its lifespan. So whether you need routine inspections, repairs, or upgrades, we're here to provide comprehensive and reliable services to keep your investment in top shape.
Private Companies
At Rock Steel Structures Inc, we've had the privilege of working with private companies across various industries. From retail stores and warehouses to office buildings and manufacturing facilities, we have the experience and knowledge to handle projects of any scale. Our commitment to customer satisfaction and exceptional workmanship has earned us a reputation as a trusted partner in the construction industry.
Reach Out to Us Today!
So whether you require a steel building, metal pole building, new commercial construction, or maintenance and service work, Rock Steel Structures Inc is the trusted choice for your project in Wenatchee, WA. With our extensive experience, commitment to quality, and dedication to customer satisfaction, we strive to exceed your expectations. Just contact us today to discuss your construction needs, and let us bring your vision to life.