Pole Barns & Other Structures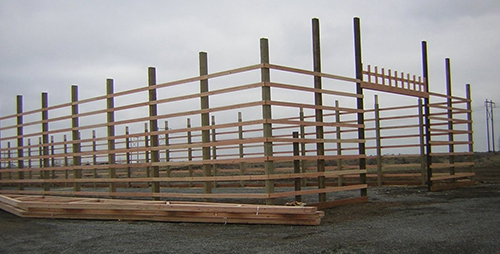 For a cost-effective, highly sustainable solution to your next commercial building development, consider the use of a pole frame structure. The materials, insulation, reuse and adaptability that accompany these buildings make them a superior option for expedited timelines or budget-conscious developments.
Rock Steel Structures Inc is your local leader for pole frame buildings in Moses Lake, Grant County, Douglas County, Lincoln County, and Chelan County, WA, bringing a refined level of expertise to the table when it comes to the planning and execution of these buildings.
Pole buildings' breakdown
When constructing pole frame buildings and pole barn in Moses Lake, WA, we take a close look at not just the overall structure, but also the components that make it the sum of its parts. Typical pole style buildings can include:
Pre-engineered trusses on 10′ or 12′ centers
A 4:12 roof pitch, allowing for a 40-pound snow load and 70 mph wind load
Pressure treated poles—10 feet on center bay spacing
2×6 Purlins and girts 24″ on center
2×10 skirt boards treated .60 retention
29 gauge galvalume metal roofing
29 gauge colored metal walls
Color matched screws and deluxe trim package—including base metal!
1-3068 walk-in door
Overhead door
2″ MBI Insulation roof only
Concrete for setting poles
Labor & Equipment to erect building
Designing your pole buildings
Designing a pole barn or post frame building takes a keen understanding of the structure's intended use, as well as seasoned building expertise. If you're considering one of these structures for your next development, make sure you're consulting with Rock Steel Structures Inc today.
With years of experience in engineering these pole frame buildings, we're ready to work with you to raise your structure quickly and with the utmost reliability in mind. Contact us today at 509-669-1457 for more information on pole buildings, steel barns, our work as garage builders, and more.